Welcome to RPi's New, "Customer's Own" Picture & Humor gallery.

Please send us "Scenic Pictures", "Amusing captions", "Amusing Pictures", "Unusual or quality pictures", or anything else relevant, To add to this section.

---


Kind of a fantastic site! Here are some specific pics of some Range Rovers I had...


I have been to Iceland, Norway and Denmark more than 50 times. I live in Switzerland and have at times a collection of RRs. FOUR vehicles as well as a 1955 LR.


---
Some fine looking V8s
(whatever your taste)
---
V8 Rover powered fun !!!


Hi Chris, here's a photo of the Austin 7 at the NASC Nats this year, They don't build 'em like this anymore (Did they ever!!!)

thanks for your help so far, Bryan .
---

And Trikes too,
this one is sporting an RP1 4.6 unit and looks real good for it!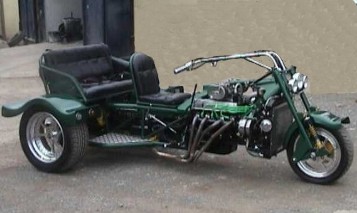 This is Maureen's 4.6 RPi Powered Trike.


---
MGs with well appointed V8s,
Always the perfect combination.
Dear Chris,

Edelbrock conversion is now running. The car is far more responsive to the throttle with a MUCH improved power delivery. The engine runs more smoothly, the car requires very little choke to start from cold, but soon warms up. Thanks for the help and advice given to me and John, my mechanic. The trouble is, I now would dearly love chromed rocker covers!!! I'll save up a bit more and 'phone through my order asap. I'll also get in touch when funds permit the next phase of the project to convert to LPG.

Best regards, Stephen
---
A V8 Renault 5, It can't be!
Yes, it's a Renault 5, with a Rover V8 fitted, and what a neat job too. Love it or hate it you can't help admiring it, and I bet driving it is a Blast. :-))
---
V8 Custom Toyota Truck.
Graham's Toyota V8

is one of the best we have seen, and now, having been LPG converted, it's giving amazing economy for such a good looking & powerful Truck.

For all LPG conversion prices and details please either call or visit our eBay shop
---

An adventure in Iceland is out of this world.



If you would like to know more or want to talk to someone from Iceland who can make it happen for you, then send an e-mail to 'Runar' and you will be on the first step to an adventure that could never be repeated.

Visit the Web Site Runar Ingi Hjartson The ultimate Icelandic experience. ' Click'
(Tell him we sent you)


---
Another special V8. Engine in a Superb MG.


This came in to us looking so good! It just had to have a place on our 'Picture gallery'. The owner has put many loving hours and £££'s to create a superb V8 MGB.

It's what makes our job worthwhile.
Enhanced with Magnecor Plug wires a Mallory Unalite Ignition, plus set up correctly, this MG V8 went out with far more than it came in with.

And its poor running problems were 'sorted' once and for all .





---
Falklands Images.
From, Stephen C. Luxton • Stanley • Falkland Islands




Hi Chris

Sorry it's taken me over a year! - but here are the promised Falklands photos. I'm afraid they aren't great quality - I borrowed a v. cheap digital camera to do them. I also took some proper photos, so if you like I can send you copies when I get them developed - I still haven't got a scanner. I don't know whether they will be good enough to use on the website but please feel free to use them for whatever you like.

My 'proper' engine is in the Discovery, 3.9 EFI auto which you helped me sort out in late '99 (it was a manual then, the auto came later) and it's still going like a bomb.

Stephen
---
Ford GT 40 replica
What a great site!
I've attached a pic of my GT40 replica,
---
Offroading in Canada..

Just a couple of emails for you - great scenery eh? In the first photo we are about to pull out a series IIA (the first of 4 pulls needed to get to the nearest thing to a road). The series II had a busted rear half shaft we thought, but it turned out to be the diff. - so we had to get it out in front wheel drive only. Brought the wrong parts. Many more photos in this series...Let me know what you think... This Land Rover was prepared in the UK by RPi and Exported to Calgary, Alberta T3E 6A7, Canada, God's own country etc.

---
---

© Copyright RPi Engineering 1999.e-mail: Copyright RPi Engineering 1999. contact: using our new form
Wayside Garage, Holt Road, Horsford, Norwich, Norfolk, NR10 3EE, United Kingdom
Tel +44 (0)1603 891209 Fax +44 (0)1603 890330

Site design by astutech